FOASC Blog
Last April, during our Board of Directors and Members Meeting in Diamond Bar, CA the hot topic of discussion at the BOD Meeting was labor cost for preparing the new hot foods. With such low GP, are franchises making any money? The business model of 7-Eleven is to buy product, stock it and sell it for a profit. The new model includes preparing food, much like a "food service". Some members feel as though SEI is not considering the labor cost aspect for franchisees.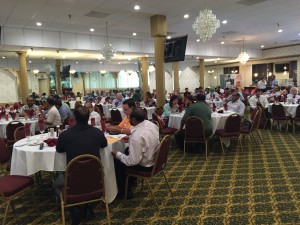 FOASC Members and Board of Directors
One of our guest speakers, Mark Stinde of Asset Protection spoke about robberies being on the rise across the country. Stephen Kellison, Zone Asset Protection Manager mentioned being in a preliminary stage of working with an outside vendor to provide a patrolling service nationally. This has been tested in four store in Los Angeles, four stores in Florida and eight more throughout the other markets. A 6% shortage decrease was shown in all the test stores. SEI is working with an attorney and is close to being in the testing phase of "Digital DNA" which is a system that can identify people with solely a digital data base. Lastly, a third party monitoring system has begun a small test of cigarette packs with GPS tracking installed, which alerts law enforcement upon leaving the store.
Norm Hower, Vice President of Greater LA Zone, talked about Joe Anderson working with the marketing team on Market 2173 gradually expanding into Urban Promo Pricing. He also mentioned how SEI is interested in optimum funding and has been "putting the pressure on vendors" for fully funded vault promotions. Another topic Norm spoke on was Remodeling. 150 remodels are schedule until July / August 2015. Expand the Assortment (ETA Project) is coming early 2016. Field Consultants have the remodeling schedules and are currently being trained on the process. One of the last issues addressed by our guest speakers was the matter of Food Handlers Certificates being required or not. In conclusion, the requirement depends on the city the store is in. Most cities do not require eac h employee to carry the certificate, but only one manager. Check individual city guidelines to confirm.
Twenty-eight franchisees throughout entire country including FOASC Honorary Chairperson, Nick Bhullar and Jawad Ursani under Keith Jones' leadership are meeting with congressperson in Washington, DC this week to discuss the "SNAP" program policy. The change in EBT has been proposed by USDA which states that if hot food sales make up more than 15% of your total fresh food sales the store can lose its eligibility to accept EBT (also known as Food Stamps). If this passes, the store will lose all the EBT sales, so our representatives went to Washington, DC to attempt to put a stop to this change.